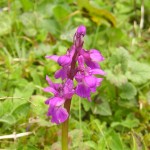 Due to an increasing workload, DWC have employed two ecologists to help with the busy summer survey season.
Ben Wyatt joined us in April and has previously worked with us under the Future Jobs Fund. He is highly experienced in protected species work including reptile translocations and bat activity/emergence surveys. He has also been involved in a number of interesting projects including orchid translocation.
Ruth Angell is a highly experienced, licensed bat worker who has a PhD in bat ecology and ten years' experience of surveying bats. She has previously run a project monitoring effects of agri-environment schemes on bat biodiversity, and has also worked as a Land Management Adviser, giving advice and developing site management plans.